PROFESSIONAL, HIGH-QUALITY, AUTHENTIC
We restore vehicles to their original condition with great attention to detail.
Interested in giving your dream car a new lease on life with a true-to-original partial restoration, frame-off restoration or body-off restoration? Then you've come to the right place: we are specialists in restoring Ford Mustangs (1964 – 1969) and Chevrolet Corvettes (1953 – 1967). We take care of it all: everything from planning and completing restoration to providing any official paperwork that may be required.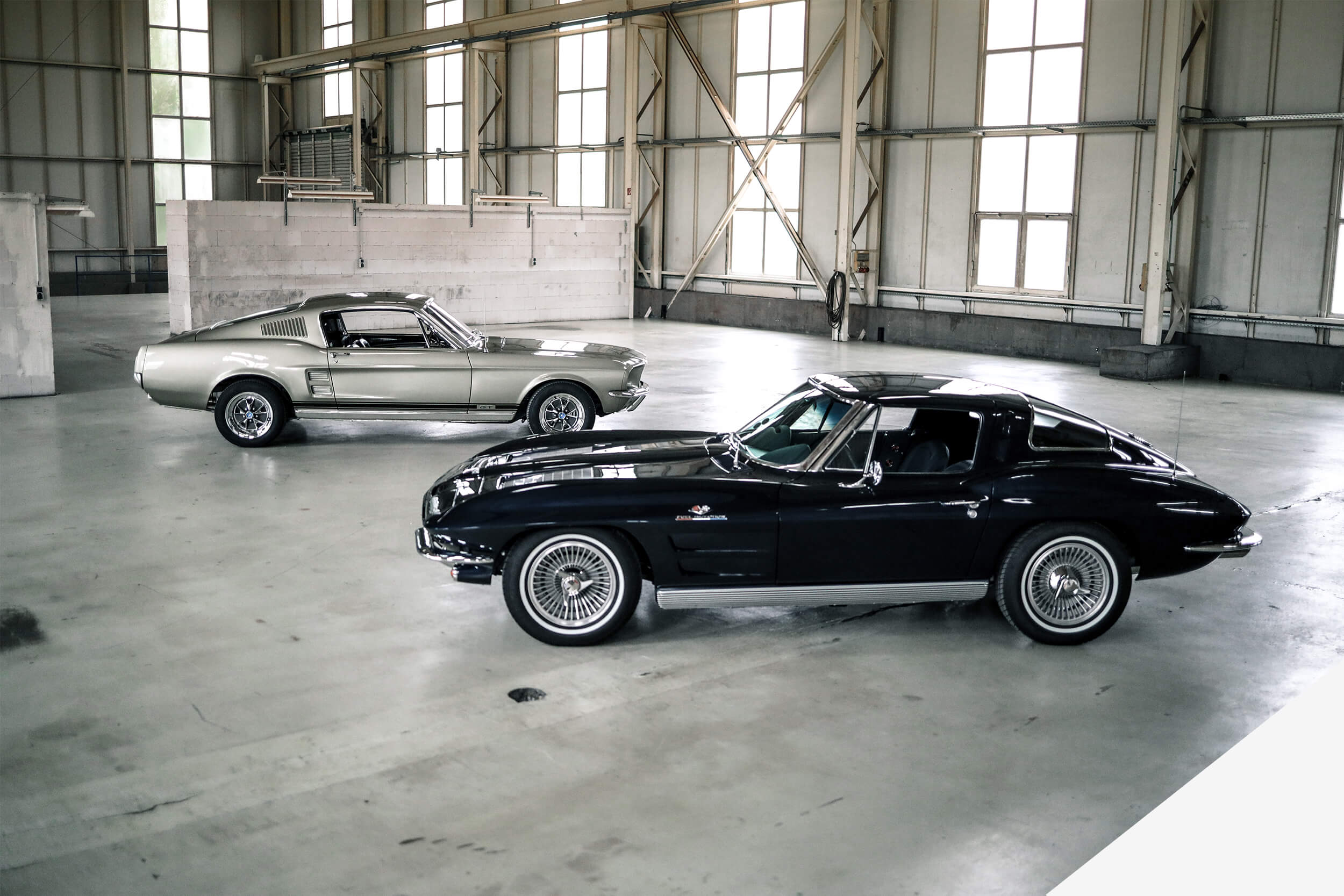 RESTORATION: FORD MUSTANG
We carry out restorations of 1964 – 1969 model Ford Mustangs with consistent professionalism and the highest standards of quality. To make that happen, we work in a spacious, state-of-the-art workshop and in close cooperation with a locally-based consulting firm specializing in the automotive field.
We obtain replacement parts used in restoring the Mustangs quickly and at lower cost from our long-standing partner: the Velocity Group. We devote great attention to detail on each and every restoration project. Experience the exhilaration of authentically restored Mustangs.
Completed 1964 ½ – 1969 Ford/Shelby Mustang
RESTORATION INCLUDES
THE FOLLOWING SERVICES:
Custom planning for the restoration or for special modifications

Professional disassembly of the vehicle

Body work – from repairs to special modifications

Preservation of car body parts with epoxy resin

Refurbishment of vehicle parts

Galvanic treatment of all small metal parts
Decorative chrome plating

Powder coating of accessories

Fabrication of replacement parts no longer available

High-quality finish per original color codes

Custom-made interior per your instructions

Delivery with TÜV certification, historic vehicle registration plate and valuation appraisal

Documentation relating to the restoration (can also be provided through external consultants)

Restoration: chevrolet corvette
We also take great pleasure in restoring Chevrolet Corvettes of the C1 and C2 generations (1953 – 1967). Our team of experts is highly specialized and completes every restoration with precision and instinctive skill. We are assisted in this by a local automotive consulting firm, which can, upon request, provide a detailed record of how the restoration proceeded.
Thanks to Velocity Group we obtain replacement parts for our projects quickly and at affordable prices. What does restoration of a Chevrolet Corvette C1 or C2 look like? Find out by browsing some of our past projects.
Completed 1953 – 1967 Chevrolet Corvette C1 and C2